The Bear On The Unicycle -The Coldplay App Story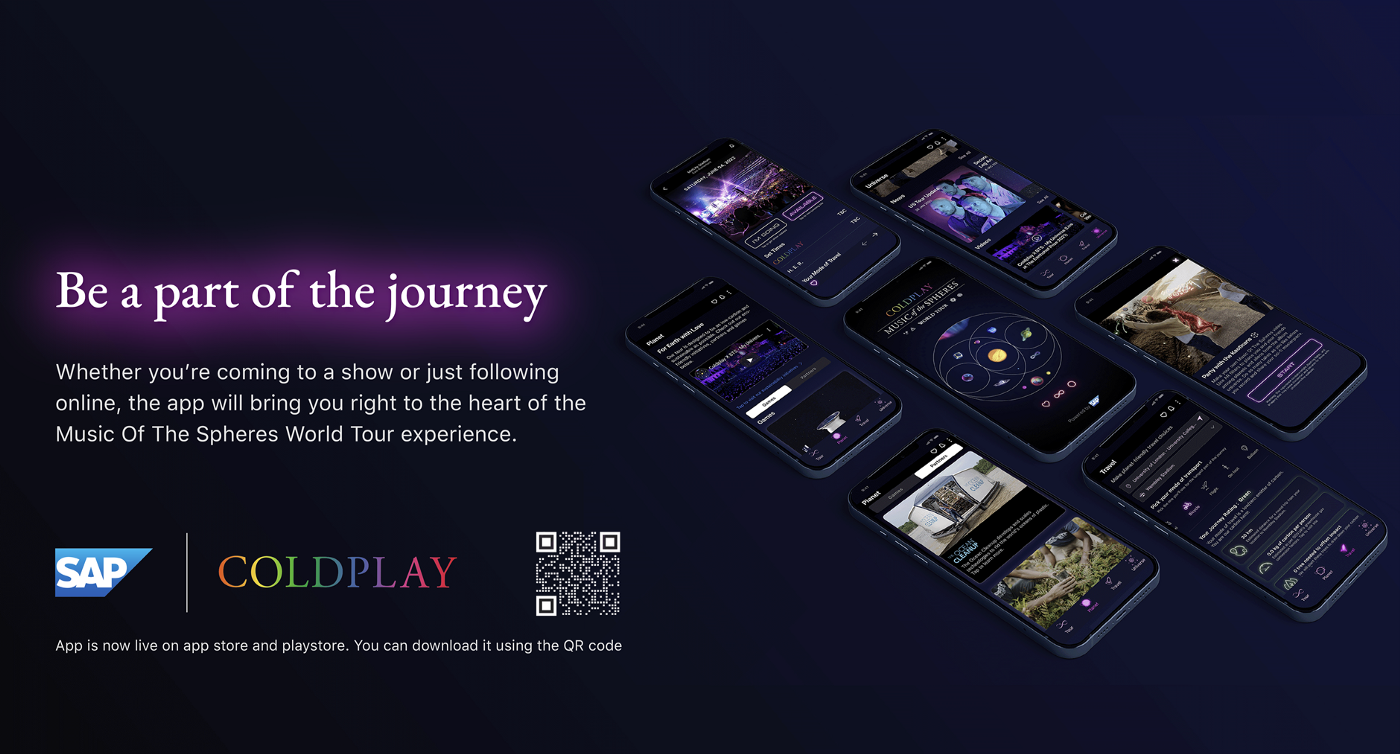 Coldplay had just announced that it would no longer tour until it had reworked their concert experience to not only be carbon neutral but also actively beneficial. In January 2020 SAP approached Coldplay with a proposal: it offered to help build an app that would further the band's sustainability goals. Coldplay accepted.

Most of the carbon emissions that a concert produces are caused by fans traveling to the venue. What if an app could help them make thoughtful choices about their travel? Eventually the idea found its way to my desk and I put together a team that has been my go-to for years — a small team capable of doing world-class work, and whose members knew and trusted each other.

On 12 March 2022 this team of engineers released SAP's first ever consumer-facing app for Coldplay's Music Of The Spheres world tour. By May 2022 it generated tremendous interest from the fans and had an average rating of 4.9 on 5.

How did a small team deliver something compelling enough to even earn a place in SAP's fiftieth year showreel?

What Makes Something Interesting: the Bear on the Unicycle

In a world with millions of apps, why build another app? And if we did, would anyone notice it?

The central question is: what creates interest? To paraphrase Naval Ravikant, if you're at a circus and you see a bear, that's not very interesting. You see only a unicycle and that's not very interesting either. But if you see a bear on a unicycle, that's interesting. So the team set out to create a bear-on-a-unicycle app.

Interest is at the Intersections

The team viewed the challenge through three lenses: Technology, Entertainment, and Sustainability.

Neither was interesting in and of itself. Entertainment evoked images of ticketing apps; Technology, of apps whose core is to addict the end users; and Sustainability, of data-heavy and even depressing apps. Our app had to be at the intersection of the three.

The team wanted the app to feel like Coldplay: thoughtful, spectacular, fun, with subtle messages hidden in the medium. We would lead with sustainability and encourage fans to choose the greenest way to travel to a concert. Our games would be reminiscent of older, familiar games but would not be addictive. Players would not be inundated by facts but would earn them.

Creating Interest: Flip Expectations, Break Norms

We decided that no tickets or merchandise would be sold on the app. Instead, we'd let fans know whether tickets were on sale or sold out.

We would have exclusive content from shows and have Coldplay curate videos from its amazing public repository.

Our augmented reality (AR) experiences would have more depth and functionality than most consumer-facing apps and include aliens from the Music of the Spheres Universe.

And finally, we would not store user data on our servers: fans wouldn't be asked for a login and so they could easily delete their personalization settings.

Measure Different: from How to Wow

We become what we measure. We confuse and conflate achieving the measures with achieving the goal. Fortunately, this works in reverse too — if we measure differently, we become different. We weren't concerned with download numbers (though they are important) but intensely cared about creating a friction-free, aesthetically pleasing experience.

We asked: Does the app have a wow factor? Does it feel inviting from the word go? Does anything feel off-kilter? Have we adequately showcased the incredible assets created by some of the best artists in the world through Coldplay?

Doing the Right Things, Doing Things Right: Reasoning from First Principles

In every aspect of the app building process we adopted a first-principles approach.

Acutely aware that we were building our first ever consumer app and had no room to fail in the market, we enlisted world-class experts in gaming, music and app development to guide us. Ge Wang , Associate Professor at Stanford's Center for Computer Research and Acoustics and Gareth Hinds, acclaimed graphic-novel creator who was thoroughly familiar with the video game industry, gave us candid, deep feedback and set the bar high. Based on their and the band's feedback, we did countless iterations of the designs over a year.

A critical decision lay ahead: post release, how do we handle negative feedback? We knew that a high rating was, unfortunately, the only way people would discover the app. On the other hand, we were determined not to game the system. None from the development team was allowed to post reviews, even in testing.

App store user reviews contain brickbats and bouquets, often both in the same review — and this was the insight that illuminated our path. We decided to establish rules on feedback based on how we ourselves would like to receive it — praise in public and criticism in private.

So we asked fans in the feedback section of the app if they were enjoying it. If no, we directed them to a survey that sought more information. If yes, they were redirected to the app stores and encouraged to leave a review. The support team responded to every review within minutes of its posting.

Therefore while we received complaints of bugs and responded with fixes directly through social media, feedback on the app stores has remained overwhelmingly positive.

The Dance of Predictability and Emergence: the Beauty in the Invisible

Nearly twenty team members worked across three countries, meeting for an hour every night without fail, for a year. Through a disciplined, predictable meeting rhythm we created conditions for emergence. Mistakes were tolerated, exploration was encouraged and perfection expected.

By focusing on the process, we achieved far greater results than if we had obsessed over an outcome. We proved that outcomes are rewards for focusing on the right things in the right way.