Nujeen: The Girl from Aleppo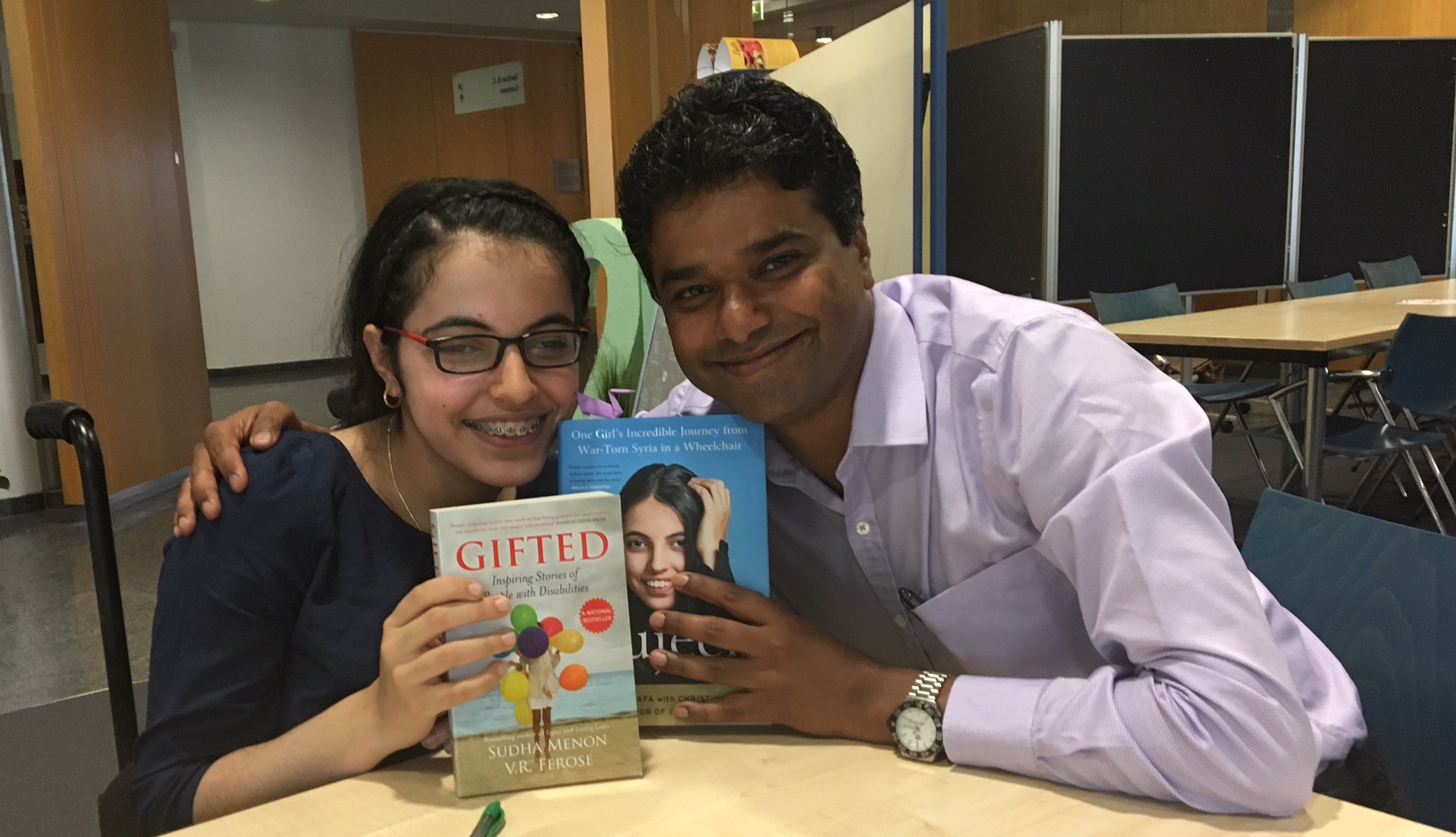 Here are Nujeen Mustafa's two principles:

First: No one is born evil.

Second: Don't watch the news. Because if you watch the news, it will shake your first principle.

For an 18 year old, Nujeen is stronger than she looks and has the maturity way beyond her age. When I first met her before the Globalization Services All Hands meeting in Rot, she had a wide smile on her face and an infectious energy. When I mentioned that I was from India, she shared her fascination for Bollywood and her mad fan like frenzy for Shah Rukh Khan(SRK). She started signing from her favorite SRK movie Rab Ne ban Di Jodi – a movie she has seen 8 times!

When I first read about Nujeen, I googled for her videos and watched the BBC video by Fergal Keane that first carried her story from Hungary border. The refugee crisis in Europe was the biggest movement of people into Europe since the second world war. It did not show Europe at its best, when one country after another closed its borders, except Germany.

Nujeen's story has multiple layers. On one hand is her determination to have a new life, for which she travelled 16 months, over 3500 miles on a wheelchair – using every possible mode of transportation – foot, taxi, bus, boat, plane! For a girl who had hardly ever left her apartment on the 5th floor in her hometown in Kobani(Syria), she took an audacious journey to cross 9 borders into Germany, on a wheelchair. She does mention, that it helped that she did not know the dangers of the journey – else she would have never taken it.

However, there is another side to Nujeen – her curiosity and hunger to learn. I haven't seen or met a teenager whose command over English is as good as Nujeen's – without ever having gone to school. She learnt her English by watching American soap operas on TV (her favorite show being Day of our lives)! She also like facts – about physics and space, particularly string theory. Also about history and dynasties like the Romanovs. And controversial people like Howard Hughes and J Edgar Hoover. Her ambition is to either become an astronaut or a professional writer. The former is well within her reach, while the later she already has, with her unique and powerful memoir Nujeen (The Girl from Aleppo) with award winning journalist Christina Lamb.

In the time, I spent with her, it never occurred to me that Nujeen had cerebral palsy. Her positivity overshadowed her disability. Her smile dissolved her challenge. She often mentions that she does not want to be seen on a wheelchair, because being different is often confused with being dangerous. 

During her journey across Europe she came across different kinds of people – from smugglers to anti-immigrant politicians who made the journey extremely challenging; to kindness of people who made the journey a possibility. As Christina Lamb says, "Nujeen story puts a human face to one of biggest stories of our times"

For a girl disabled since birth, who can't walk – the story of Nujeen's incredible journey from war torn Syria on a wheel chair is a story of hope and inspiration from the most unlikely circumstances.

One of Nujeen's wishes is to return to her home in Syria, eventually.

Also, that with better medical treatment in Germany, one day she will be able to walk – with her determination, she surely will! Amen!