Gift Of The Finest Facsimile: A Collector's Tribute To Printers And Illustrators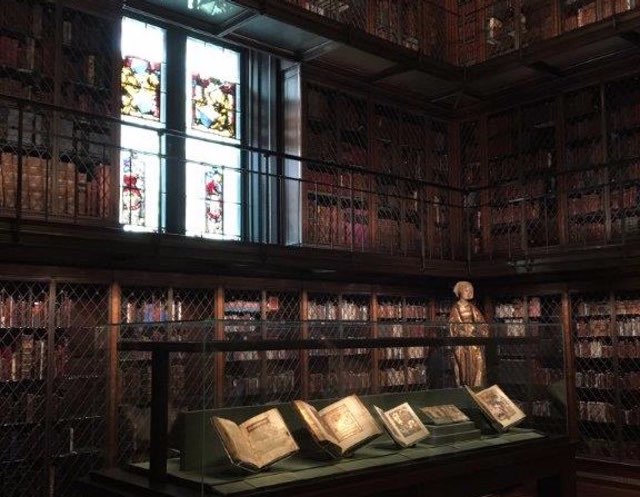 A visit to Morgan Library and Museum in New York gave me a chance to view first hand many landmarks in printing history.

The Morgan Library and Museum, one of the most momentous cultural gifts in US history, was given by J P Morgan to fulfill his father Pierpont Morgan's dream of making the library and its treasures available to scholars and the public alike by transforming it into a public institution.

The most influential financier in US history, Pierpont Morgan was also a voracious collector. He bought on an astonishing scale, collecting art objects in virtually every medium, including the rare books, manuscripts, drawings, prints and ancient artifacts that are the core of The Morgan Library and Museum's holdings.

It is almost hard to believe that one person can ever have such a massive personal collection; the closest I can think is the Salar Jung Museum in Hyderabad, where the Nawab of Hyderabad collected the rarest of the rare paintings, textiles, sculptures, carpets, watches, clocks et cetra for over 30 years to make it one of the largest museums in the world.

I spent most of my time in the Morgan Library, which had several volumes of European literature from the sixteenth through twentieth centuries. The walls, reaching 30 feet, are lined floor to ceiling with triple tiers of bookcases made of inlaid Circassian walnut.

While Shakespeare's First Folio (one of the three Morgan copies of the Folio is always on public view in the East room) and the Gutenberg Bible are the most famous collectables, my favourite was an Albert Einstein signed version of the formula E=mc2.

There was a section of some of the rarest letters and manuscripts behind a glass case – Margaret Atwood's manuscript draft of the short story My life as a bat; Sir Walter Scott's manuscript of his first novel; Frederic Douglass letter to J D Husbands; Fanny Burney's manuscript of her first bestseller History of a Young Lady's entrance into the world and Frederic Chopin's musical notes are reminders of an era where hand written letters and notes were a norm.

The reading room with complete electronic services, and many workstations, is a dream space for researchers and young scholars.

No visit is complete without buying a memorabilia from the Morgan Shop. While J P Morgan is known world over for banking and financial services, without doubt the library and the museum is the true cultural legacy of Pierpont Morgan that will stand the test of time! While I was thinking about what would be worth collecting, the idea of collecting facsimiles of landmarks in printing crossed my mind. That started my journey into printing landmarks.

Why just facsimiles, and not the actual thing? Great examples of printing since its invention is simply beyond the budget of most collectors – often only institutions or enormously wealthy collectors can afford to buy such notable achievements in printing.

The first printing facsimile landmark I got was a reproduction in colour of a page from the Genesis chapter in the Gutenberg Bible that the Library of Congress had made in 1972 to celebrate this first monument to the printed book.

It came in a large orange folder specially made for this, and laid in within was the beautiful page printed in three colours. Inside was also a note describing the copy from which this facsimile was made: apparently the Congress obtained their copy in 1930 as part of a collection of 3,000 fifteenth century books purchased from the collection of Otto Vollbehr. For the next facsimile, I thought it only appropriate that I get something related to the Shakespeare folio, and since there were so many facsimile of the various Shakespeare folios, this was easy enough to acquire. I bought As You Like It, a ditto copy of the First Folio version except for its size which was octavo rather than folio.

Rather than only look at early examples of landmarks in printing, I turned to the nineteenth and twentieth centuries. Victorian printing is known for an explosion of decorative and colour printing – in fact, the idea of the sumptuous 'gift book' began here. A landmark book in this century was Dresses and Decorations of the Middle Ages published by William Pickering. This book faithfully reproduced pictorially several aspects of the middle ages by hand drawn engravings. It was published in two editions, one black and white, and the other, a deluxe edition in colour. I was lucky enough to find both editions (though in the deluxe state I have only volume one). It has often been referred to as the most striking book published in the nineteenth century.

From the twentieth century, my first acquisition was something called Liber Librorum, an international project from 1955 which invited the world's best graphic designers to do their own version of setting a page from the Bible. The challenge was that each designer was given the same page from the Bible, a page from Genesis, and they each had to come up with a different way of setting the page. This project was undertaken to celebrate the 500th anniversary of the Gutenberg Bible in Stockholm, Sweden. Some of the renowned designers were Wolpe, von Sichorsky, de Roos, Caflisch, Blumenthal, and Kacmarcik. About two dozen printing samples from famous designers were laid into a cloth portfolio and though 1,500 sets were printed, only 500 were for sale to the public, making this scarce. The rest of the portfolio sets were given rather than sold to institutions and libraries around the world.

Another wonderful and sumptuous set of twentieth century printing examples I managed to ferret out was a boxed set from the Society of Printers containing a range of examples of the best work of American printers to celebrate 100 years of the society. This came in a large black box with printing samples in many colours and printing methods.

There were several more such examples of printing I bought (too many to itemise or note here) while there were also many I could not buy because even the facsimiles were expensive. For instance, the Nuremberg Chronicle, the first great example of colour printing and the use of colour wood blocks in books. Or Audubon's famous Birds.The point of this whole exercise was this: a facsimile, if faithfully reproduced, can help us recall and celebrate great examples of the printed book, and give us a glimpse into its finer aspects. It has been for me, at least where this year is concerned, a way of acknowledging the genius and labour of printers and illustrators as we toast World Book Day.