Home to 125m disabled, India is yet to have proper rehabilitation facilities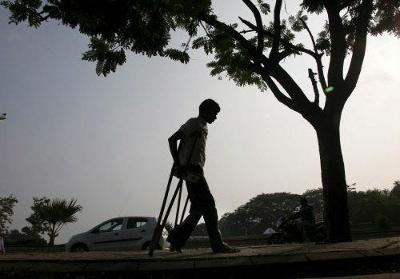 BENGALURU: Arguing that employing one member of a poor family will help alleviate poverty in a sustained manner, Meera Shenoy, founder, Youth 4 Jobs, took the centre stage on the second day of the India Inclusion Summit (IIS). She spoke about the country's youth still living in abysmal conditions.
"A job doesn't only give economic independence, it also boosts self-esteem," she said.The summit on Saturday saw a range of speakers sharing different ideologies on treating differently abled people in a human manner.

They noted that India, with a population of 125 million disabled people, has not yet reached ahead in terms of rehabilitation of those with spinal injuries, who are bound to a wheelchair for life. Recalling his experience after injuring his spine, which resulted in paralysis, S Vaidyanathan, founder, The Ganga Trust, said: "There are many rehabilitation facilities but none of them has adequate trained therapists. Disabled people don't require hi-tech facilities but a human touch.If there's no rehabilitation, there's no hope."

The speakers included Felicia Shafiq, Paralympic volleyball player; Amish Tripathi, author; Priyanka Agarwal, leader of employee business resource group for persons with disabilities at IBM; Brent Vaughan, CEO, Cognoa, Inc; Anshu Gupta, founder, Goonj; Rajdeep Manwani, academician, trainer, motivational speaker and Pranav Lal, photographer and visually challenged action-oriented manager specializing in information security .

MEET THE AUTHORS

Avid readers got a chance to meet their favourite authors during the summit. Seven writers -Amish Tripathi (The Shiva Trilogy, Scion of Ikshvaku), Ferose VR (Gifted), Sudha Menon (Women who Inspire India, Legacy: Letters to their daughters from eminent Indian men and women, Gifted), Meera Shenoy (You Can), Prasad Kaipa (From Smart to Wise and You Can); Disha Chhabra (Because Life is a gift) and Roopa Pai (The Gita for Children, Taranauts and What if the Earth Stopped Spinning?) interacted with readers on concepts of inclusion.

INCLUSION FELLOWSHIP

The India Inclusion Summit, which completed five years, introduced the Inclusion Fellowship to support entrepreneurs, artists, policy makers and those working in the disability sector striving to promote inclusion.Anusha Reddy, director, IDIA Disability Access Programme; Aman Srivastava, founder, Project Mudra, Neha Arora, founder, Astha Foundation; Abhinav Dey, founder, Freedesign, and Sunil Jain, founder, Planet Abled received Rs 2 lakh and support for their projects.

Sports helped her cross many hurdles

aving the best family in the world brought Felicia Shafiq back to life. Things turned for the worse for this senior support engineer with SAP and a volleyball player when she fell ill after returning from Fiji to her home in Canada. She had slipped into coma and owing to blood poisoning, doctors had to amputate her legs.

With her mother by her side, Felicia tried out for the team participating at the Summer Paralympics in Rio this year; she became the first double amputee to make it to the team. "My family and colleagues stood by me and after three-and-a half years in the hospital, there were ter rible setbacks that I knew I just had to get through. Inde pendence was what I needed the most and that's what volleyball gave me," she said.

The Canadian Paralympian volleyball team went on to win the bronze medal at the games this year. TNN

He fought odds to win gold

At 21, Mariyappan Thangavelu became a Paralympic star this year, winning India a gold medal in high jump at the Summer Paralympics held in Rio.As he entered the summit arena on Saturday with his medal, there were tears a n d ch e e r s.

While a shy Mariyappan barely spoke to the crowd , his coach Satyanaraya na filled in for the unassum ing star. Mari yappan lost his leg at the age of five when a drunk bus driver ran over him.

Satyanarayana noticed Mariayappan's talent two years ago and promised his mother that her son would return with a gold medal.

"It will take another 30 years for sports in India to gain popularity.In this scenario, training athletes with special needs is a challenge but not impossible. Every athlete with a disability is unique, irrespective of how similar their disabilities are. Timely training, support, food and above all, the feeling of wanting to be a sportsman are the intrinsic values that make a disabled athlete successful," Satyanarayana said. TNN

Inclusion not unachievable: Amish Tripathi