A Visit To Some Of The Best Book Stores In The United States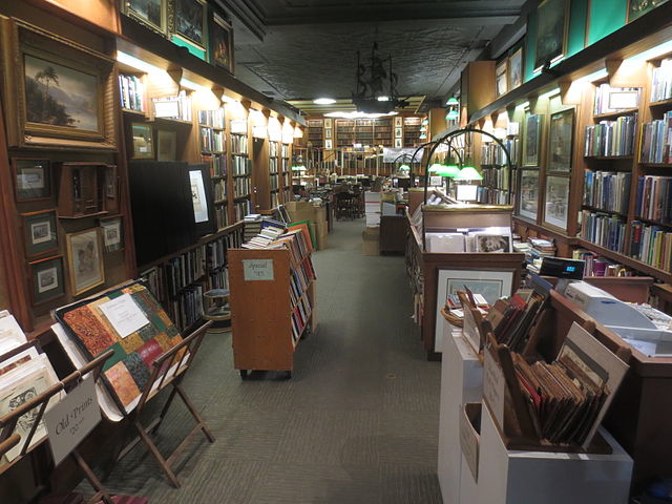 The kind of hectic, long haul traveling that my work involves is, as you can imagine, exhausting. But it has one perk for me: the chance to visit the best bookshops wherever I happen to be. It was thus, just a few months ago, on a cold Friday evening after work that I found myself in "Argosy", New York's oldest independent book store specialising is rare books, prints, maps and autographs.

The store clearly had every possible rare item – very well catalogued with incredibly knowledgeable storekeepers. My interest in rare first editions and signed books took me to the fifth floor (through a lift operated by a liftman – even this was antique.) where I browsed through an entire floor of meticulously stacked up first editions (some of them were even signed).

It was here that I found, for $150, a first edition of one of my favourite P.G. Wodehouse titles: "Pearls, Girls and Monty Bodkins". I was also fascinated by rare covers of New Yorker magazines, which is an area of collection that I never knew existed. The ones I was looking at had covers associated with bookish themes, and were being sold for as much as $50.

However the most interesting section for me was the one on maps, primarily driven by my complete ignorance of the topic. When I asked the lady who actually buys maps, she said, "people who don't understand art.". My interest in art probably explains my lack of understanding of Maps.

The section on original autographs of many film stars and celebrities were sold for $10, something I found very unique and interesting. Argosy is without doubt a landmark in New York, a bookstore that has not got its due, being overshadowed by the more famous Stand Book Store. Before leaving, I picked my book store memorabilia – an Argosy tote bag.

The second bookshop I was very impressed by recently is one I discovered by sheer chance, and what a treasure trove it is: a four story high modern building stacked from end to end with books. It as my first visit to Detroit, and I was put up in the Hotel Double Tree on Lafayette street.

While driving to the hotel I happened to see this four storey building named "J Kings". I hadn't done my research on bookstores (that I normally do before visiting a new place), but it intrigued me to see a four storey building as a bookstore – so I checked on Yelp and was pleasantly surprised to see very positive reviews.

So I made it a point to spend an hour at the bookstore, before going to the airport. I must admit, I was a little skeptical in the beginning as the store looked like many of the run down unoccupied places in downtown Detroit. If I was expecting a ghost store, I was way off the mark.

Even before I entered the bookstore, the smell of books made me feel that I was in for a romantic sojourn with books. The receptionist handed me a map of the four floors with almost 90 different sections – I was told there were a million books to select from. Due to the shortage of time, I made my interests very clear – literature, history and biographies.

I was escorted to the third floor where I spent time browsing through books – hoping to bump into a treasure and I was not disappointed – as there were many. One of the lessons, I have learnt over the years while collecting rare books, is that it is better to buy one book that adds to your collection, that 10 that you buy and don't care about.

So I went back to the receptionist and said, I am interested in books signed by US presidents – not very hopeful of finding too many. Well, I was mistaken. I was taken to a room at the backside of the store, and when I entered the rare book section, I was up for a big surprise. Here was a whole floor dedicated to the rarest of rare books – the person asked me "what is your budget? We have books from $100 to $100,000".

I was shown the section on books by signed Presidents and there was none they did not have from Obama to FDR, there was every piece of history that you can imagine, lying right in front of me. Since I was collecting books about FDR, I got a book signed by FDR's personal secretary Grace Tully titled "My Boss FDR" and another book signed by FDR's daughter Anna Roosevelt titled "Scamper". While I secretly wished I had more time, I also knew that if I had more time, I would probably have spent ALL my money in the bookstore.

While driving past downtown Detroit, I had seen houses up for sale for as low as $1000- and my mind went back to J Kings. Here is a bookstore where every book is worth more than a house and the bookstore, more than the entire downtown. Similarly, when work took me to Las Vegas a rare bookstore was the last thing I expected to be checking out instead of a casino.

When I asked a friend to recommend a book store in Vegas, he told me "Ferose, people come to Vegas to get drunk, watch shows and lose their mind, not to read books". But then I accidentally bump into "Baumann Rare Books" in the Venetian Hotel. What I saw was perhaps the best and most exclusive collection of rare signed books ever. The original copy of the "declaration of independence" was proudly showcased behind a glass case (cost a whopping $55,000) meant they probably had the rarest of rare finds.

I also saw the signed copy of Kennedy's "Profile in courage" and Ayn Rand's "Atlas Shrugged". There was a special room for viewing some very exclusive books. In addition to books, the book store also claims to have unique documents (though I did not see them), such as a lengthy autograph letter signed by President Lincoln and a military document signed by Napoleon as emperor.

I wondered if people really bought rare books amidst the center's more traditional retail offerings of luxury handbags, shoes, jewelry and apparel. When I asked one of the bookstore clerks what the busiest time of the year was, he said, "During economic slowdown. Rare books are the best form of investment, the prices always remain stable, like GOLD"

Another interesting bookshop in downtown New York, and one that is very different from any of the above is "Housing Works" – where books, coffee and a cause come together. This was a store where there was enough place to pick up any book and spend an entire hour reading it; it had books signed by authors who visited the store regularly for book readings, and also had some very interesting rare books for bargain prices.

The whole enterprise is run by keen volunteers. As someone who has been to numerous book readings, I could relate to the book by Kate Gavino "Illustrated encounters with extraordinary authors" and I was happy to lay my hands on a signed copy.

A coffee table book of Martin Luther King by Roger Witherspoon was a good buy. There was a separate section ( glass cabinet ) with rare signed collectables – most books were priced over 200$. One of my new interests is to buy tote bags from books stores – the one from Housing Works is my favorite (the fact that all merchandise is donated makes the feeling even better). If I ever have to open a book store, this would be the model I would follow – books, coffee, cause, volunteers and maybe some profit, to keep the store running.

Note: This article first appeared in #Swarajya here.